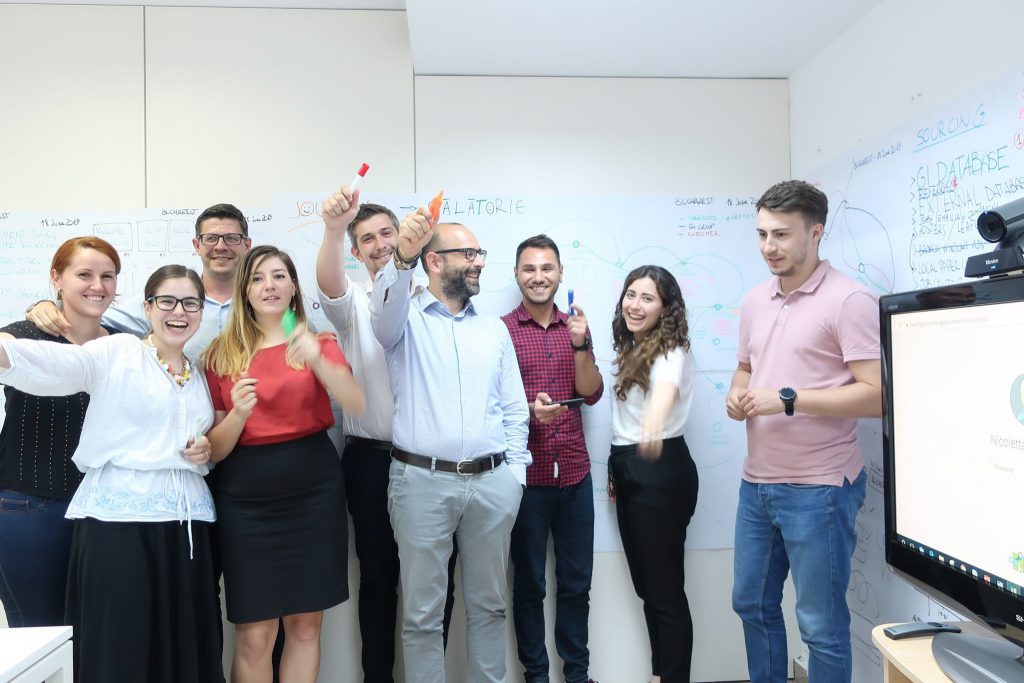 Speeding up Candidate Management and Delivery process in Romania
In order to promptly answer to the current needs of the Romanian market, the Country team and the Global Practice Temp & Perm met last week to discuss how to create value for candidates analyzing all the touchpoints between candidate journey and delivery process. Also, the Romanian team had a first induction on Spinner, our global ATS, in order to better understand how the system can support the delivery process. The initiative aligns to the Candidate Management Program.

The workshop, held by Massimiliano Cerella – Global Candidate Manager – and Nicoletta D'Antonio – Global Delivery Model Expert – involved: 

– Andrei Luca, Business Manager T&P
– Marius Tout, Operation Area Manager West Romania
– Georgeta Brudaru, Branch Manager Bucharest 
– Adelina Popa, Recruitment Specialist Oradea 
– Bristena Dumitru, Recruitment Specialist Bucharest 
– Catalin Calin, Marketing Specialist 

Everyone gave a very active contribution, according to individual experiences at local and global level, sharing best practices, current initiatives, lessons learnt and specific needs. This workshop laid the foundations of an action plan that, starting from today, will be rolled out in the next few months. 

The attendees appreciated the workshop approach, that allowed them to actively participate, redesigning our delivery process in a candidate-oriented way. 

"It was a great experience to see the journey on paper. As consultants, you never think of the single process steps or candidate journey, this is kind of unconscious. This is why I think this approach should be shared with everyone working in delivery area in Romania. Attending this round table was an exchange of experiences from several points of view: it was a peer debate, reviewing our country activity, but it was also loaded with information from other countries".

"For me, this workshop was very useful. It helped me to better understand the Gi business, and I can't wait to implement the best practices shared with us, especially those regarding visual in job posting according to different social platforms".

"I appreciated attending a workshop, not a training: it was easy to share ideas! I feel my horizons have opened up on how to work better. These were 3 days full of ideas I'm looking forward to put in practice".

"This workshop was a great experience to work as a team, not as individuals! We are looking forward to meet again soon to have a checkpoint on the Candidate Management Program implementation and to start the development of Spinner for all branches in Romania to support our delivery process".

From the point of view of the promoters of this initiative, Massimiliano and Nicoletta, this was a great opportunity to better understand the complexity of Romanian market through the experiences and opinions of our Romanian colleagues, reviewing the process and choosing together the most effective actions to put in place. 

Want to know more about the program? Get in touch with Massimiliano and Nicoletta.